Amidst the joy of exploring a different environment, it's essential to prioritize maintaining a balanced lifestyle after moving to ensure overall well-being. Embracing a healthy routine is crucial for staying active and nourishing your body and mind in this transitional phase. Whether you've relocated for work, studies, or personal reasons, adjusting to a new lifestyle can be daunting. However, we offer practical tips and guidance on how to stay active and healthy after moving.
Embracing Your New Environment
Firstly, embracing your new environment is a vital aspect of maintaining a balanced lifestyle after a move. The unfamiliarity of a new place may initially feel overwhelming, but it presents a unique opportunity for exploration and growth. Start by venturing out to nearby parks and outdoor spaces, where you can engage in physical activities like walking, jogging, or simply enjoying the fresh air. Take advantage of the area's natural beauty, and you may find yourself drawn to activities you never tried before, such as hiking or paddleboarding. Moreover, connecting with the local community is an excellent way to stay active and forge new friendships.
Seek out sports clubs or community groups that align with your interests, whether it's soccer, cycling, or dance. These social connections not only offer physical benefits but also provide emotional support during the transition. By immersing yourself in your new surroundings, you'll find that staying active becomes enjoyable and seamless. Embracing the local culture, trying regional delicacies, and attending events or festivals can further enhance your experience and overall well-being. The more you open yourself up to these opportunities, the better equipped you'll be to maintain a balanced lifestyle.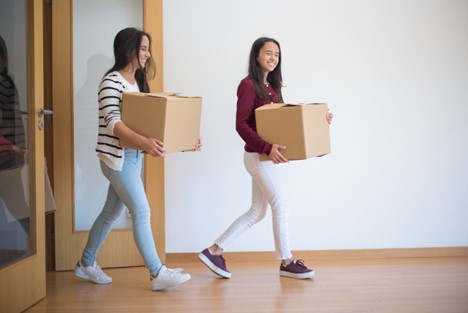 Maintaining a balanced lifestyle after moving is easier when you create a new routine for the moving period.
Establishing a Consistent Routine
One of the reasons moving is stressful is because it disrupts our daily routine. As Pro Movers Miami say, you can create a brand-new routine to implement during the moving process. This will give you a sense of control during relocation and help you stay healthy more easily. Amidst the chaos of relocation, sticking to a structured schedule can provide stability and help you seamlessly integrate healthy habits into your daily life. Start by prioritizing a regular sleep schedule to ensure you get enough rest and wake up refreshed. Plan your meals and grocery shopping to support a nutritious diet, making sure to include a variety of fresh produce and wholesome ingredients. Allocate time for exercise and physical activity in your daily schedule, whether it's a morning workout, a lunchtime walk, or an evening yoga session.
Consistency in your fitness routine will not only improve your physical well-being but also boost mental clarity and overall productivity. Additionally, creating designated time for relaxation and self-care is vital for managing stress and maintaining balance. Whether it's meditation, reading, or pursuing a hobby, having dedicated moments for yourself helps recharge your energy and enhance your ability to adapt to the new environment. As you establish and stick to a well-rounded routine, you'll find that it fosters a sense of normalcy and control, making the adjustment to your new surroundings much smoother and empowering you to live a healthier and more balanced life.
Exploring Outdoor Fitness Options
Next, exploring outdoor fitness options after moving is an invigorating and rewarding way to maintain a balanced lifestyle while embracing your new surroundings. Moving to a different location often brings with it a change in landscapes, and this presents a unique opportunity to immerse yourself in the natural beauty of the area. Take advantage of nearby hiking trails or walking paths to reconnect with nature and engage in heart-pumping exercises. Hiking not only improves cardiovascular health but also allows you to discover hidden gems and breathtaking vistas that can inspire a sense of wonder and excitement in your new environment.
Incorporating cycling into your routine is another fantastic way to explore the area while staying active. Whether you're cycling along scenic routes or navigating city streets, biking is a fun and eco-friendly option. Not only does it boost your physical fitness and endurance, but it also offers a sense of freedom and independence as you venture through the surroundings. Engaging in outdoor sports is another appealing option for those seeking fitness and social interaction. Look for nearby sports fields or courts to play tennis, basketball, soccer, or any other team sport you enjoy. Participating in group activities can help you meet like-minded individuals in your new community.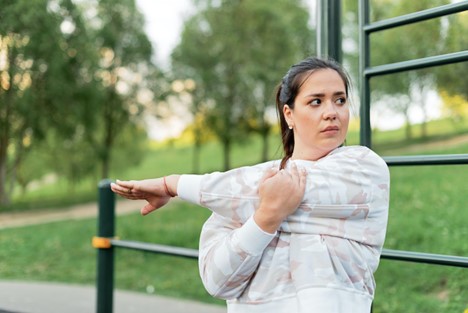 Explore outdoor exercise opportunities when you move.
Maintaining a Healthy Diet
This is a fundamental pillar of maintaining a balanced lifestyle after moving. Overall, you can easily stay healthy during relocation when you take care of your diet. Amidst the chaos of relocation, it's essential to prioritize nutrition to support your physical and mental well-being. One of the first steps to maintaining a healthy diet is to explore local markets and grocery stores in your new area. Seek out fresh, seasonal produce and locally sourced ingredients to infuse your meals with vibrant flavors and essential nutrients. Cooking at home not only allows you to have control over what you eat but also encourages mindful eating and portion control.
Limiting eating out and choosing healthier options when dining in restaurants can positively impact your overall health. While trying out local cuisines can be an enjoyable part of the moving experience, making balanced choices ensures that your diet remains wholesome and nutritious. Consider exploring eateries that offer healthy alternatives and prioritize whole grains, lean proteins, and plenty of vegetables. Hydration is equally crucial for a healthy lifestyle, especially during the transition period. Keep a reusable water bottle with you at all times and aim to drink plenty of water throughout the day. Staying hydrated not only supports physical health but also boosts energy levels and mental clarity. Moreover, it's essential to be mindful of emotional eating during the moving process. Stress and emotions can influence eating habits, leading to cravings for comfort foods.
Balancing Social Life and Wellness
While adapting to a new environment, it's essential to nurture relationships and connections to create a sense of belonging. Schedule social activities that involve physical activity, such as hiking with friends, attending fitness classes together, or exploring local parks as a group. Engaging in shared wellness activities not only strengthens bonds but also motivates everyone to stay active and healthy. However, it's also crucial to be mindful of how social events may impact your wellness goals. While socializing often involves dining out or attending gatherings with tempting treats, strive to make mindful choices when it comes to food and drinks. Opt for healthier options when available or practice portion control while still enjoying the company of others.
Additionally, be mindful of alcohol consumption, as excessive drinking can undermine your health and wellness efforts. Moderation is key, and staying hydrated with water or non-alcoholic beverages can contribute to overall well-being during social gatherings. Furthermore, encourage friends and family to support your balanced lifestyle. Let them know about your fitness and wellness goals, and seek their understanding and encouragement. Surrounding yourself with individuals who share similar values and aspirations can make it easier to maintain a balanced lifestyle while forming strong social connections. Lastly, be open to trying new social activities that promote wellness. Attend local community events, join fitness classes or sports clubs, or participate in volunteering opportunities. These activities not only allow you to meet like-minded individuals but also contribute to your well-being and sense of fulfillment.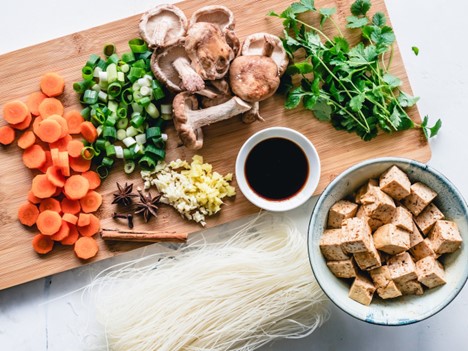 A healthy diet is a key part in maintaining a balanced lifestyle.
Final Thoughts On Maintaining A Balanced Lifestyle After Moving
In conclusion, maintaining a balanced lifestyle after moving is not only achievable but also essential for overall well-being. Embrace your new environment, explore outdoor fitness options, establish a consistent routine, and prioritize a healthy diet. Stay active at work and find ways to balance your social life with wellness goals. Remember that small changes can lead to significant improvements in your physical and mental health. By combining these strategies, you'll create a harmonious and fulfilling lifestyle that empowers you to thrive in your new chapter.