Male pattern baldness, also known as androgenetic alopecia, is a common condition affecting many men worldwide. This article aims to provide a comprehensive overview of male pattern baldness, including its causes, signs, treatment options, and tips for managing the condition. We will debunk common myths surrounding male pattern baldness and explore its impact on self-confidence. If you're seeking to understand male pattern baldness better and explore effective solutions, this article is for you.
Introduction
Male pattern baldness is a specific form of hair loss that primarily affects men, although women can also experience a similar condition called female pattern hair loss. It is characterized by a gradual and predictable pattern of hair thinning and loss, typically starting at the hairline and progressing to the crown of the head. This condition is primarily influenced by genetic factors and hormonal imbalances, leading to the miniaturization of hair follicles over time.
Causes of Male Pattern Baldness
Genetic factors and family history: Male pattern baldness often runs in families, suggesting a strong genetic component. You may have an increased risk if your father or other male relatives experienced hair loss.
Hormonal imbalances: The hormone dihydrotestosterone (DHT) plays a crucial role in the development of male pattern baldness. In individuals with a genetic predisposition, DHT can bind to receptors in the hair follicles, leading to their shrinkage and eventual cessation of hair production.
Age-related hair follicle sensitivity: As men age, their hair follicles become more sensitive to the effects of DHT. This increased sensitivity can accelerate the progression of hair loss.
Environmental and lifestyle factors: Certain lifestyle choices, such as smoking, excessive alcohol consumption, and poor nutrition, can contribute to hair loss. Additionally, exposure to environmental pollutants and stress may exacerbate the condition.
Understanding Hair Growth and Loss
To understand male pattern baldness, it's essential to grasp the basics of hair growth and loss. Hair follicles go through a cycle that consists of three phases: anagen (growth phase), catagen (transition phase), and telogen (resting phase). In individuals with male pattern baldness, the anagen phase becomes shorter, while the telogen phase lengthens. This disruption leads to the gradual thinning and eventual loss of hair.
DHT, a hormone derived from testosterone, plays a significant role in male pattern baldness. It attaches to the hair follicles, causing them to shrink and produce thinner, shorter hairs. This process, known as miniaturization, continues with each hair growth cycle until the follicles can no longer produce visible hair.
Recognizing the Signs of Male Pattern Baldness
Male pattern baldness typically follows a distinct pattern, allowing for easy recognition. Here are some common signs to watch for:
Receding hairline: The hairline begins to recede from the front, often forming an "M" shape.
Thinning crown or bald spot: As the condition progresses, a bald spot may appear on the crown of the head, with hair thinning in that area.
Hair loss progression patterns: Male pattern baldness can follow various patterns, including a receding hairline, thinning crown, or a combination of both.
It's important to note that the rate and extent of hair loss can vary among individuals, and some men may experience more significant hair loss than others.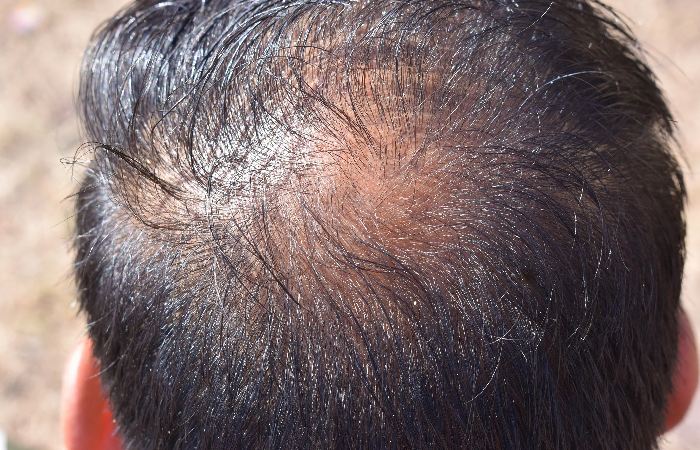 Treatment Options for Male Pattern Baldness
While male pattern baldness is generally irreversible, several treatment options can help manage the condition and promote hair growth. These options include:
Medications: FDA-approved medications such as minoxidil and finasteride can help slow down hair loss and stimulate regrowth.
Hair transplant surgery: This surgical procedure involves transplanting hair follicles from the back or sides of the head to the balding areas. It provides a more permanent solution to restore hair growth.
Low-level laser therapy: This non-invasive treatment utilizes red light wavelengths to stimulate hair follicles, promoting hair growth and thickness.
Scalp micropigmentation: This technique involves tattooing the scalp with tiny pigments to create the illusion of hair follicles, giving the appearance of a closely cropped hairstyle.
Camouflage techniques: Hair fibres, hair systems, and specialized styling techniques can help conceal thinning areas and create the illusion of fuller hair.
Tips for Managing Male Pattern Baldness
While there is no definitive cure for male pattern baldness, there are strategies you can adopt to manage the condition and maintain a positive self-image:
Healthy lifestyle habits: Eating a balanced diet, exercising regularly, and reducing stress can contribute to overall hair health.
Haircare routines: Use gentle hair products and avoid harsh treatments or excessive heat styling that can further damage fragile hair.
Styling techniques: Opt for hairstyles that complement thinning hair, such as shorter cuts or textured styles that add volume.
Psychological support and acceptance: Seek support from loved ones or professional counsellors to cope with the emotional impact of hair loss. Accepting and embracing your appearance can boost self-confidence.
Debunking Common Myths about Male Pattern Baldness
There are several myths surrounding male pattern baldness that can perpetuate misinformation. Let's debunk some of the most common ones:
Wearing hats causes hair loss: Wearing hats does not cause hair loss. However, excessively tight or dirty hats can lead to hair breakage or scalp issues.
Frequent shampooing accelerates balding: Shampooing regularly does not accelerate hair loss. In fact, keeping the scalp clean and free of excess sebum can promote a healthy environment for hair growth.
Only older men experience male pattern baldness: While hair loss is more common as men age, male pattern baldness can begin as early as the late teens or early twenties. It is not limited to older individuals.
Hair loss is solely determined by the mother's side: While genetics play a significant role in male pattern baldness, it is not solely determined by the mother's side. Both maternal and paternal genetic factors contribute to the condition.
Hair loss indicates poor health or lack of virility: Hair loss is a common condition that can occur regardless of overall health or virility. It is primarily influenced by genetic and hormonal factors.
Understanding the truth behind these myths can help individuals make informed decisions and separate fact from fiction when it comes to male pattern baldness.
Male Pattern Baldness and Self-Confidence
Hair loss can have a significant psychological impact on individuals, affecting their self-esteem and confidence. Coping with male pattern baldness involves embracing your appearance and focusing on aspects beyond physical appearance. Here are some strategies to boost self-confidence:
Self-care: Take care of yourself physically and mentally. Engage in activities that bring you joy and boost your self-esteem.
Personal style: Experiment with different grooming styles, such as facial hair grooming or accessorizing with hats or scarves, to enhance your personal style and feel more confident.
Support networks: Seek support from friends, family, or support groups to share experiences and emotions related to hair loss. Surrounding yourself with understanding individuals can provide a sense of belonging and acceptance.
Professional help: If hair loss significantly impacts your well-being, consider consulting a dermatologist or trichologist who specializes in hair loss. They can provide personalized advice and treatment options based on your specific situation.
Remember, hair loss does not define your worth or attractiveness. Confidence comes from within and can be cultivated through self-acceptance and embracing your unique qualities.
When to Seek Professional Help
While male pattern baldness is a common and natural condition, there are instances where professional intervention may be beneficial. Consider seeking professional help in the following situations:
Early signs of hair loss: Addressing hair loss early can lead to better treatment outcomes. If you notice significant thinning or a receding hairline, consulting a dermatologist or trichologist can provide valuable insights and guidance.
Emotional distress: If hair loss affects your emotional well-being, self-esteem, or quality of life, seeking professional support from a counselor or therapist can be beneficial. They can help you navigate the emotional challenges associated with hair loss.
Remember, seeking professional help is not a sign of weakness but a proactive step towards understanding and managing male pattern baldness effectively.
Conclusion
Male pattern baldness is a common condition that affects many men worldwide. While it may have an impact on self-esteem and confidence, there are various treatment options and coping strategies available. By understanding the causes, recognizing the signs, and exploring the available solutions, individuals can navigate male pattern baldness with confidence and embrace their unique appearance.